"Because I was barely breaking even, if at all at tables up until recently, I was hesitant to spend even more money on a venture I wasn't sure would even work out."
- Vivian Tong, Artist, SketchBeetle Art
The "venture" she was talking about was signing up for The Profitable Convention Artist course when it opened for beta testing back in November 2016.
Before taking the course, she "actually wasn't profiting at all at actual cons. [She] would be lucky if [she] broke even."
She took a chance on the course anyway, and mid-way into the course, she made $610 in gross sales at a convention! Note that she wasn't making money at all at previous conventions, so this was huge!
After completing the course, she increased her gross earnings to…guess what? $1,250!
However, after calculating the overhead costs for this convention (using what she learned from the course), she realized that she ALMOST hit $1000 in PROFIT, not yet making the $1K mark.
And so she set $1K as her goal for her next convention…
Fast forward to April 10th, 2017, a day after my birthday, she Facebook messaged me saying: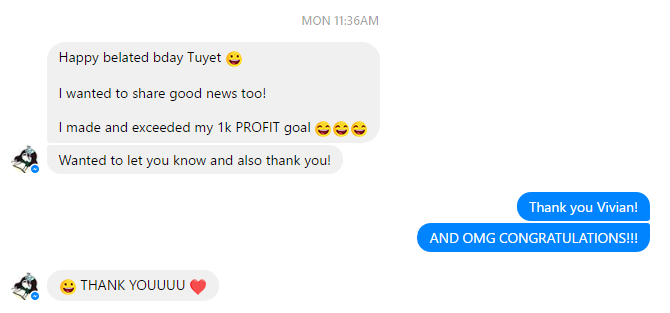 I don't know about you, but that was the best birthday gift ever received: success from my student.
Vivian's Update (4/21/17):